BBQbyDan Catering & BBQ Competition Cooking teams are the proud recipients of the following
Championship State Titles for Excellence in BBQ Cooking:

- 2002, California State BBQ Grand Championship title , < article 2 >
- 2003, Arizona State BBQ Reserve Grand Championship title
- 2004, California State BBQ Reserve Championship title
- 2006, California, Los Angeles, BBQ ' At the Gene Autry Museum,, Reserve Grand Championship title
- Customer Testimonials
- Buffet Style Serving environment
BBQbyDan is known throughout California & the U.S. for our award-winning catered BBQ meats & side dishes. We provide "Authentic & Award Winning BBQ Catered Cuisine" in the Southern California area. We specialize in the Kansas City style of low-&-slow wood smoking. Some BBQ meat entrees include pulled, sliced, & chopped Pork Butt & Beef Brisket, Baby Back Pork & Beef Ribs, overnight marinated Chicken & sliced Tritip Roasts, & smoked Sausage Links. Many delicious side dishes are also available. We cook and smoke only the best meats (freshest & best cuts) with pecan, oak, and hickory hardwoods. We will provide all eat-ware & serve your guests. Our BBQ cuisine is proudly prepared & served at our customers sites using professional BBQ Smoking Pits mounted on custom built trailers that can be viewed at the links below:
< Smoker #1 > , < Smoker #2 > , < Smoker #3 > , < Commissary Trailer #1 > , < Prep Trailer #1 > - Last updated : 12/12/2007
---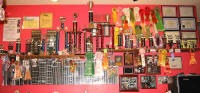 Awards presented to BBQbyDan
for Excellence in Cooking at BBQ Events
American Royal Cook-Off, Kansas City Missouri

The Rose Bowl BBQ Cook-Off, Pasadena California

ClovisFest BBQ Cook-Off, Clovis California

Mandalay Bay Cook-Off, Las Vegas Nevada

West Coast Cook-Off(s), Santa Cruz California

Go for the Gold Cook-Off(s), Azusa California

Surf & Turf Cook-Off(s), Imperial Beach California

Shake, Rattle, Smoke Cook-Off(s), Azusa California

Happy Trails Cook-Off, Victorville California

Tostitos Fiesta Bowl BBQ Cook-Off, Scottsdale Arizona

Beach Front Cook-Off(s), Imperial Beach California

Blues & Brew's Cook-Off, Long Beach California

Swine & Wine Cook-Off, Niles California

Modesto Street Scene & BBQ, Modesto California

Police & Fire Cook-Off, Ontario California

California State BBQ Grand Champion 2002

California State Reserve Grand Champion 2004

Balloons & Blues, Scottsdale,
Arizona State BBQ Reserve Grand Champion, 2003

BBQ n' at the Gene Autry, Los Angeles, April 2006,
Reserve Grand Champion
BBQ SLOW-SMOKED MEATS

Beef Brisket, chopped, sliced, & pulled


Beef Ribs

,

brushed w/ BBQbyDan BBQ Glaze

Beef Tritip , overnight Marinade, thinly sliced

Pork Shoulder Butt,

pulled pork, shredded & pulled

Pork Baby Back Ribs

,

brushed w/ BBQbyDan Glaze

Chicken, w/ BBQbyDan

overnight Marinade

Sausage Links, w

/ BBQbyDan overnight Marinade


BBQ SIDES

BBQ Beans, w/ chopped BBQ Beef

/ Pork


Potato Salad, tangy with Dill

Dirty Rice, w/ chopped BBQ Beef / Pork

Mashed Garlic Potatoes, w/ seasonings & butter

Macaroni Salad

,

tangy and tasty


Corn, Niblet Kernel, seasoned, smoked & buttered
Cole Slaw, w/ Creamy Ranch dressing


Cole Slaw, Asian Nutty w/ Oranges & Sesame

d

ressing

Green Beans, smoked & buttered
Green Bean Casserole, traditional, topped with
French's crispy Fried Onions


Garlic Bread, fresh sliced buttered French Baguettes



Complimentary - Coffee or Lemonade,
BBQ Sauce,
Dinner Rolls & Butter,
are included at each event
Serving Equipment - All SERVING equipment (chafers, tables & cloths, serving tools), menu, ambiance settings, & coffee fixings or lemonade table-setup are included


ALL BBQ Meats & Sides dishes are prepared with the same care and detail that wins State Championships, Guaranteed!
---
Price quotes are based upon menu selections, location, labor, and the event as an entirety. Three meats and sides are a recommended minimum. Tables, chairs, and dining rental equipment is available upon request. Dinner rolls, Butter, Coffee/Lemonade, BBQ sauce, Serving equipment, and Eatware (plates/condiments/napkins/cutlery packets) are included. <Click here> to view our buffet style serving environment provided at all events.
We specialize in high-end buffet style weddings, corporate, and private events.
<Home Page> <Print Friendly Version >

BBQbyDan®, BBQbyDan Inc.™, BBQDan™, BBQ Whisperer™, BBQ Bivouac™, CRK Specialty Q™, Coyote Road Kill™
BBQbyDan.com™, BBQDan.com™, BBQWhisperer.com™, CoyoteRoadKill.com™, BBQBivouac.com™
Registered Trademark (BBQbyDan® Class 030, 035, 043), Service Marks, & Trademarks, claimed 1998-2015 by BBQbyDan Inc.
Copyright© 1998-2015, BBQDan.com, BBQbyDan.com, BBQWhisperer.com, & CoyoteRoadKill.com websites
All rights reserved. No content can be used for commercial purposes without written consent.
Content used for educational purposes or media review must include appropriate source information.
Revised: 06 Jan 2015 12:33 .